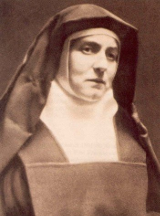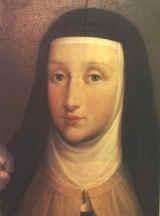 From The Hidden Life, St Teresa Benedicta of the Cross (Edith Stein)
Chapter II. 3 ST. TERESA MARGARET (Redi) OF THE SACRED HEART
On March 19, 1934, Pope Pius XI entered Blessed Teresa Margaret of the Sacred Heart in the register of saints. In Germany, the new saint is virtually unknown outside of our Order. Her life was quiet and hidden.
She died on March 7, 1770 at the age of 22, and of this short lifespan, she spent five years in the Carmelite monastery in Florence. She performed no brilliant, attention-getting deeds, nor did her reputation reach the wider world. She was like a lily that, in a quiet vale protected from storms, rises slim and straight and, in the warm light of the sun, unfolds into a wondrous bloom. Her powerful and sweet fragrance charmed everyone who lived around her. Even after her death it did not evaporate, but spread wider and wider, and now it is to fill the entire church of God.
1. Childhood
Teresa Margaret is often compared with St. Aloysius. Like him, she not only died early, but also shared with him angelic purity and severe penance. Her home was Arezzo in Tuscany. Her parents, Ignatius Redi and Camilla Balleti, came from noble families. She was born on July 15, 1747, the eve of the feast of the Blessed Virgin Mary of Mount Carmel. She was baptized as Anna Maria. From early childhood on, she showed an unusual desire to hear people speak of God. When anyone talked of heavenly things in her presence, she fixed her eyes on the person's lips with such rapt attention that it had to amaze and move those present. When her confessor later asked her whether, from the moment she had gotten to know God she had also begun to love him, she replied, "But everyone does that, and how could anyone not do so?" This is how self-evident it was to her that one merely needed to know God in order to love him. Another time she said, "Jesus knows that from childhood on I never had any other wish than to please him and to become holy."
People often observed her even as a six-year-old gazing fixedly up to heaven for a long time as though in deep meditation. From her seventh year on she understood how to "find God in all things," in stars and flowers, in short, to read in all creatures a challenge to praise the Creator. When she was nine, her devout parents sent her to the Benedictine nuns at the monastery of St. Apollonia in Florence for her education. She at once won the hearts of those in authority as well as her contemporaries by her exemplary zeal and obedience, by her natural lovableness, cheerfulness, and readiness to serve. With childish naïveté, she quite unconsciously expressed her continual union with God. "While we are enjoying ourselves, Jesus is thinking of us," she called to her playmates in the middle of recess. So it is understandable that people took unusual advantage of her reliability and would often entrust her with watching her companions, without this evoking any dissension.
When she saw the older pupils go to the communion rail, her behavior showed such a deep desire to be united with the Lord that she was given permission to receive her first Holy Communion at ten years of age early for that time. She herself had not asked for it, for she was not in the habit of expressing wishes. Nor did she say anything about the result. But her increased faithfulness, her anxious avoidance of any shadow of sin that often gave her sleepless nights for a presumed fault, bore persuasive witness.
Her rich interior life required discerning direction for her soul. Because she did not want to attract attention at the boarding school by staying in the confessional too long, she got the idea of confiding in her own father. In detailed letters she gave him an account of her spiritual life. She also asked him to destroy the letters at once. Since he did this conscientiously, none of this evidence has come down to us except for the testimony of her father that they were full of the most exalted love of God and the most sensitive Christian perfection.
Probably at the suggestion of her father she also later consulted the confessor at the boarding school, Monsignor Pellegrini, and received from him direction in prayer and the regulation of her penances, which she had already begun in her family home at an interior motivation.
A particular characteristic of her piety was her love of the Mother of God, which she harbored from early childhood on. At the boarding school she once slipped on the steps while she was carrying a warming basin filled with glowing coals. She cried aloud to the Virgin Mary, whose picture hung near the foot of the stairs, and landed at the bottom completely unharmed; the coals had not even damaged her clothing.
Her constant spiritual recollection was evidenced by the calm, placid evenness of her disposition in spite of her being naturally high-spirited. And the fruit of her love for God was an untiring, loving readiness to serve everyone, not just the nuns and fellow boarders, but also the servants, from whom she liked to take over the heaviest tasks inconspicuously and as though for her own delight.
2. Religious Vocation
Anna Maria considered herself lucky to be living under the same roof with the Lord. With holy joy she participated in the monastery's routines. So it was only natural that the desire to spend her whole life in the house of the Lord should awaken in her. However, she still had no clarity about what order to choose. It was revealed to her in a singular way. She was 16 years old when one day in September of 1763 she was called into the speakroom with the nuns. It was a farewell visit of a childhood friend from her home town who was about to enter the Carmelite monastery of St. Teresa in Florence. On the way back inside the monastery, Anna Maria felt strangely uplifted and happy, and suddenly she heard a voice that spoke to her: "I am Teresa, and I want you to be one of my daughters." In doubt as to whether she should receive these words as divinely inspired, she rushed to the chapel to ask for complete clarity before the altar. Here that voice spoke for the second time and more clearly than before: "I am Teresa of Jesus, and I say to you that you will soon find yourself in my monastery."
Now complete calm settled over the soul of the young girl, and she decided to consecrate herself to God in Carmel. For the time being, she spoke with no one about this. And when shortly thereafter her father took her back to her family home, she kept her secret for several more months. She used this time to explore whether she would be equal to the strict lifestyle in Carmel. Without in the least neglecting her duties to her family, she remained in her room as much as possible to immerse herself in prayer and to read spiritual books. As much as consideration of her surroundings permitted, she practiced silence. She allowed no one to wait on her; in fact, where she could, she sought to do some of the servants' work. She let others choose her clothing without bringing up her own taste and, when possible, avoided changing her clothes during the day. She knew how to exercise secret mortifications during meals and to give to the poor some of what she denied herself. Indeed, she did not shrink from inflicting severe penances on her sensitive body.
After testing herself in this way for several months, it seemed to her time to take the steps necessary to carry out her decision. The first person in whom she confided was the Jesuit priest Jerome Maria Cioni. He advised her to discuss it with her mother. She chose her seventeenth birthday for this. Without her knowledge, her mother told her father. In spite of their piety, both parents were painfully disconcerted. However, it did not occur to them to refuse their consent outright. The only thing Count Redi deemed necessary was a thorough examination by experienced men of the spirit. Since everyone whose advice they sought definitely said that her vocation was genuine, Anna Maria received permission to write a letter to the mother superior of the Monastery of St. Teresa requesting admittance to the Order.
Objections raised by companions in her household and relatives could not dissuade the young candidate for the religious life in the least. Almost without meaning to, her father put her through a more difficult test. He and his favorite child had a habit of staying up together in the evenings to share their views on spiritual questions after the rest of the family had gone to bed. These hours gave both of them the greatest joy. One evening they were again sitting together. So far Count Redi had avoided discussing Anna Maria's plan with her. She did not even know that he was aware of it. On this evening he was suddenly overpowered by grief. He burst into tears and asked, "Do you really intend to leave me, my dear daughter?" Anna Maria loved her father tenderly. Not only was she bound to him by a child's natural attachments, but, simultaneously, by a supernatural love for her spiritual director and confidant. Therefore, this surprising outburst must have touched her deeply. Count Redi himself described her behavior at that moment: "At this shock, probably the strongest possible to inflict on her sensitive heart under these circumstances, she remained standing motionless before me for a time as though animated by a higher spirit. Then she retreated to her room without saying a word."
When the answer from Florence came assuring Anna Maria's acceptance as a postulant, her father decided to take her to the monastery himself. Beforehand, at her mother's suggestion, one more special pleasure was afforded her: a pilgrimage to the nearby Mount Alvernia, to the holy place where St. Francis received the stigmata.
One day during the second half of August in the year 1764 Anna Maria left her home forever. Her mother was sick in bed. The departing daughter knelt before her to ask for her farewell blessing. Countess Redi could not say a single word; tears were all she had in reply. Anna Maria again remained very quiet and completely controlled her pain. After a few consoling words to his wife, Count Redi led her to the carriage. "After we had taken our places in it," he later said during the process, "without letting her know that I was observing her, I saw my daughter serious, motionless, and silent for a solid hour. Then her cheerful disposition returned, and she engaged me in merry and spirited conversation, continuing the journey in the most complete composure."
In Florence Anna Maria once more visited the nuns at St. Apollonia's, who had raised her, to say good-bye to them and to her two younger sisters who were now pupils there. Then she stepped over the threshold of the Monastery of St. Teresa which was now to become her home.
3. Life in the Order
The young sister used to call the convent that had admitted her the "house of angels." She considered all of her fellow sisters as angels. In her letter requesting admittance, she had said that her goal was to "compete with them in the holy love of God." She deemed belonging to this community an entirely undeserved grace and was continually grateful to the nuns. She was always convinced that she lived among them as someone entirely undeserving. With complete sincerity, she once said to her confessor, "Believe me, my Father, these nuns are saints and real angels. I tremble when I think of how different I am from them and how far from their example. Believe me, I am really unworthy to lay myself under their feet and to serve as a floor for them. By constantly giving them annoyance, all I am good for is to enable them to practice the virtue of patience continually. I do not know how they begin to tolerate me." At the same time, her behavior from the day of her entrance resembled that of a tried religious; so, from that point of view there was never any doubt about her final acceptance after the probationary period.
But as the months of testing neared their end, another circumstance put the happy outcome in question: a virulent swelling above her right knee that would not go away for a long time. At first she tried to hide the trouble and knelt on the floor as always without support. But when she became feverish, the illness could no longer remain a secret. What gave her even more distress than the bodily pain was having to expose the affected part to the attending physician. She accepted the painful operation patiently in remembrance of the suffering Savior. Finally, the suffering abated and with it the impediment to her reception of the habit.
The sisters assembled in chapter to receive the postulant's request for acceptance. Fearful that she might be excluded because of her unworthiness, she knelt before the mother prioress and asked pardon for her failures, promising to do better. With great joy she heard the comforting assurance of the sisters who were completely convinced in their hearts of having obtained a consummate daughter of St. Teresa. But, in accord with the custom of that time, she had to wait two more months for the final vote and during this time even had to leave the enclosure. She spent the time in quiet withdrawal with Isabella Mozzi, a friend of her mother's in Florence.
March 11, 1765 was chosen for the clothing. On the eve, Anna Maria was permitted to return to the monastery. A large crowd of acquaintances and practically all the nobility of Florence were at the church where preparatory devotions were held to welcome her. They accompanied her to the door of the enclosure. Just as many participated at the clothing ceremony the following morning. At that time she received her religious name, Teresa Margaret Marianne of the Sacred Heart of Jesus.
The novice mistress into whose hands the young nun was entrusted, Teresa Maria Guadagni, had set as her goal the formation of her charges on the model of the oldest father of our Order, the strict hermit of Mount Carmel. The more she considered the perfection of which the new novice was capable and to which she was called, the sharper the weapons she believed herself permitted to use to foster the practice and to gain proficiency in the basic virtues of a religious: humility, obedience, self-abnegation. She knew how to find faults and shortcomings in everything that Margaret did and would reprimand her sharply. And when the young sister acknowledged the correction by the customary prostration on the floor, the mistress was in no hurry at all to give her the signal to rise. But no one ever saw a hint of bitterness or sensitivity in Margaret. However, when she was finally allowed to rise, she did so with a friendly and cheerful expression and with the words, "God reward you for your good deed."
Before her profession of vows, she had an experience of suffering similar to that before her clothing. It was the same physical illness and, after this had been successfully healed, there was the fear that they would not allow her to make her profession because of her many faults and imperfections. She could hardly believe it when the acceptance was finally confirmed, and was full of gratitude for the undeserved grace. She zealously examined herself to see whether she had any attachment that might impede her complete union with the Lord. Her great love for her father was the only thing that still caused her doubt. So she decided to sacrifice the exchange of letters that she had been maintaining up to then. She informed him that from now on they would meet in the heart of Jesus and would see who could love God the most. When incidentally another sister asked her, right after a visit from her father, whether the farewell had not been difficult for her, she smiled and showed her a scrap of paper on which some words of St. Augustine were written: Minus te amat, qui tecum aliquid amat. "They love you too little who continue to love anything other than you."
An eyewitness recounts of her profession on March 12, 1766: "At the solemn moment of profession, she seemed to be transformed into a seraph, and so deep and powerful was the impression of love that her outward appearance made on the circle of sisters around her that they were too moved and amazed to be able to restrain their tears."
The foundation of her life in the Order was her deep and living faith. As during her childhood, so also later, she wanted to hear about God and to enrich her knowledge. Even more than by books and priestly instruction, this desire was satisfied by illumination from on high. Out of this living faith there arose a holy reverence for everything connected with things of faith: for priests, for the other sisters as brides of Christ, for all the altar vessels which she cared for as sacristan, for all the rites during worship. Above all, the fruit of this living faith was constant living in God's presence. Her confessor and spiritual director during her years in the Order, Fr. Ildefonse, said during the process that in his judgment "her prayer had reached the level of unity in faith where these kinds of souls seem unable to continue to live much longer naturally. So in accord with the usual way of God's providence, they tend to be called early into the better world, there to see and to enjoy unveiled the Source of all being and all reality, the highest Lord whom they so eagerly sought to know on this miserable earth."
Her favorite expression was "God is love." And to requite this divine love with love in return was self-evident to her even from childhood. The thought of what the Lord suffered for us aroused in her the burning desire "to suffer a little for him, too." Therefore, she found no trial too hard; she discovered ever new sacrifices and penances. But she also knew that the Lord saw the proof of our love for him in the love we show to others. She found the occupation ideally suited for her love of neighbor in caring for the sick, when this responsibility was given to her after her profession. She was tireless in her care for those who were ill, and no impatience, no irritability nor any ingratitude of theirs could decrease her loving concern. Her strict superior, with whose care she was entrusted, knew how to try her most severely and had something to complain about in spite of all her eagerness. However, the caretaker always remained loving and patient. The ill mother prioress deliberately had to control herself so as not to express her wonder and gratitude for the tireless care. However, the only reason for this reticence was that she, too, considered it her duty to train her young daughter in humility and patience. In assuming the care of a mentally ill sister, the infirmarian took on a true martyrdom. But when they wanted to relieve her once more of this burden, she pleaded so hard to be allowed to continue to tend the patient that permission was granted her.
When the monastery was visited by an epidemic, her strength seemed to multiply. Indeed, it was apparent that supernatural gifts came to assist her in her duties. No matter how far away she was, she sensed when one of her patients needed her and was instantly at her side. A deaf elderly sister, with whom no one could communicate any longer, whom therefore even the confessor was no longer able to comfort, understood everything that Teresa Margaret said to her, even in a soft voice. So the infirmarian could care for her unhindered, and the patient also received from her the spiritual consolation for which she longed.
One day she found herself in the refectory with a sister who had been suffering from a severe toothache for a long time. Sr. Teresa Margaret saw that she was again in great pain. Full of sympathy, she arose, hurried over to the sufferer, and in complete contrast to her former reserve which the Constitutions of the Order also required she pressed a kiss on the painful spot. Then she returned to her place. At that moment the pain left and did not return.
4. Death and Glorification
In the midst of these self-sacrificing deeds of love, she herself was called away. On March 4, 1770 she asked her confessor to allow her to make a general confession and to permit her to receive communion the next morning as though it were her last. Obviously, she had a premonition of her sudden death that would make it impossible for her to receive Viaticum. On the eve of March 6 she stayed to care for the sick so long that she could no longer have supper with the community. Somewhat later she went to the refectory to have the small collation served in Lent. There she was suddenly seized by severe pain resembling colic. She wanted to go to her cell, but could only drag herself as far as a room near the refectory. Only after a while, when the pain had abated enough, was she able to reach her cell. There she collapsed and had to call for help.
She was put to bed never to leave it again. For the whole night and the following day she was in unspeakable pain, but not for a moment did she lose patience; and every effort made on her behalf seemed to her to be too much. She would not allow a sister to watch beside her at night. Only under obedience did she permit a maid to remain with her. And all she requested of her was that she remain quiet so as not to disturb anyone's nightly rest. In the morning her first concern was that the young woman should make up for the sleep she had missed. In the severest pain, she gave the sisters instructions for the care of her patients. When she could no longer speak from pain, she turned her eyes to the cross that she was holding in her hand and pressed her lips to the wounds of the Crucified.
At about three o'clock in the afternoon, about the hour when our Lord died, she lost movement and speech. The confessor who was called could do nothing more than administer Extreme Unction to her. Soon thereafter she passed away quietly and peacefully.
Because of the illness that had carried her off, shortly after her death the corpse was very disfigured, the face and neck were blue and the body very swollen. The nuns were almost hesitant to place her on view at the grate in the church as was the custom. But even during the transfer, an amazing change began: The blue color changed to a delicate pallor, the face took on a rosy glow, the body turned slim and pliant. On March 9, the deceased seemed to be more beautiful and vibrant than when alive. Therefore, the Father Provincial permitted a postponement of the burial. Until March 22, that is, for fifteen days, the nuns kept their deceased sister in the church; not a trace of decomposition appeared. On that day the archbishop of Florence visited the corpse with many associates, including medical experts. Besides the miraculous preservation of the body, what attracted great crowds of the faithful as at the death of our Holy Mother Teresa was the unique fragrance which the corpse exuded. It spread to everything that came in contact with the deceased. Indeed, even the things that she had touched during life exuded it.
The holy body, which has remained incorrupt to this day, now rests in a glass shrine in the monastery church in Florence. Countless answers to prayers and cures of the sick led to the early initiation of the beatification process so that her own father and confessor as well as a number of Carmelite nuns could make depositions.
In 1839, Pope Gregory XVI pronounced her virtues heroic. However, the beatification process was not concluded until the year 1929 under Pope Pius XI, and the jubilee of our salvation has now, on March 19, 1934, brought the canonization of the faithful follower of the Cross.
---
Copyright © ICS Publications. Permission is hereby granted for any non-commercial use, if this copyright notice is included. Maintained by the Austrian Province of the Teresian Carmel.